Construction Accident Blog
Construction Accidents that are likely preventable can cause serious injuries, and unfortunately even death. Below are thoughts on recent news construction accident articles that have come out commented on by David Snyder.
Quick Links to Articles
Falling debris leads to construction worker death in Saratoga Springs New York
Steven Cook of the Daily Gazette reported that on November 22 a worker suffered an injury from a falling object only to die two days later in Albany. This type of injury more often than not is preventable. There is an investigation currently by OSHA to determine whether or not there should be any additional penalties civil or criminal. I would certainly expect that OSHA would find multiple violations that led to the incident. Family should certainly contact a construction accident attorney who can fully investigate the claim to ensure maximum recovery for the victim's family.
A construction worker fell to his death while installing an i-beam in Brooklyn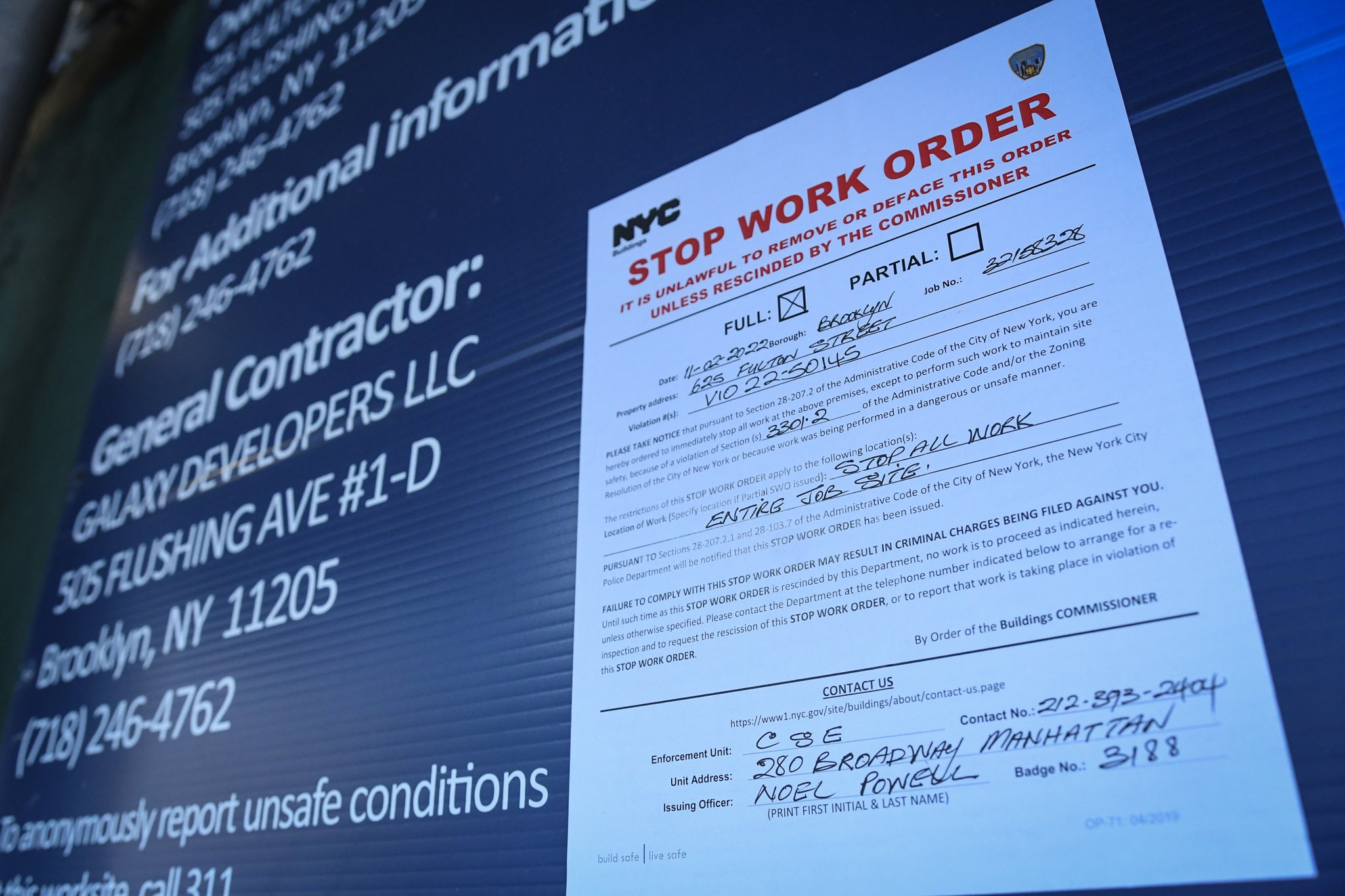 Keith Larsen and Kathryn Brenzel of The Real Deal reported about a fatal construction accident on November 2, 2022, where Raul Tenelema Puli of Queens fell 20 feet while installing an i-beam for a sidewalk shed in Queens. The fatal accident happened at 625 Fulton Street, due to the worker falling 20 feet with the beam. The DOB inspector tied to the incident later resigned under questionable circumstances. Accidents such as this are preventable under New York Labor Law.
New York Law affords special protection to injured workers who suffer serious injuries as a result of gravity-related accidents. You should consult with a lawyer who handles construction accident lawsuits to discuss a case if you or a loved one was injured in a gravity-related fall.
Construction worker falls from bridge
WABC reported that on November 1, 2022 a 34-year-old construction worker fell from a bridge onto the Van Wyck Expressway in Brooklyn where a car then hit him. After the fall, an ambulance transported the man to a hospital where he later died. Any time a fall such as this occurs, it calls into question whether the worker had proper safety equipment. New York Labor Law affords special protection to construction workers working at an elevation. OSHA will conduct an investigation into the cause of the accident. OSHA will likely cite the contractors involved for several violations of the law. If a negligent contractor seriously injured you or a loved one in a construction accident, call the Snyder Law Firm for a free consultation.
Construction worker falls into 25-foot hole in Manhattan.
Dean Moses of the Villager reported that a construction worker fell 25 feet into a hole on a construction site. The worker was part of a crew building a 32-story mixed-use building. The worker required rescue from multiple first responders. Fortunately, the man appeared to be alive but was unconscious. Construction laws in New York require that workers be protected from such accidents. There are numerous codes that a general contractor could violate that would lead to such an accident.
Spectrum News 1 reporter Maya Rajamani recently reported that on September 12, 2022, at a Brooklyn, New York construction site, a construction worker who was working on a jobsite attaching an arm to an excavator was pronounced dead at the scene after the collapse of machinery onto him.
Authorities have yet to fully investigate this accident as of the writing of this blog. In the experience of our personal injury attorneys, there is someone to blame for most accidents such as this. Good Jobsite customs and habits by the contractors through following New York Law help to prevent such accidents. The worker wore his protective gear allegedly, but it did not stop the injuries in this case. In our experience, contractors on the job site, cause this type of accident through negligence, or violations of the New York Law, or OSHA regulations.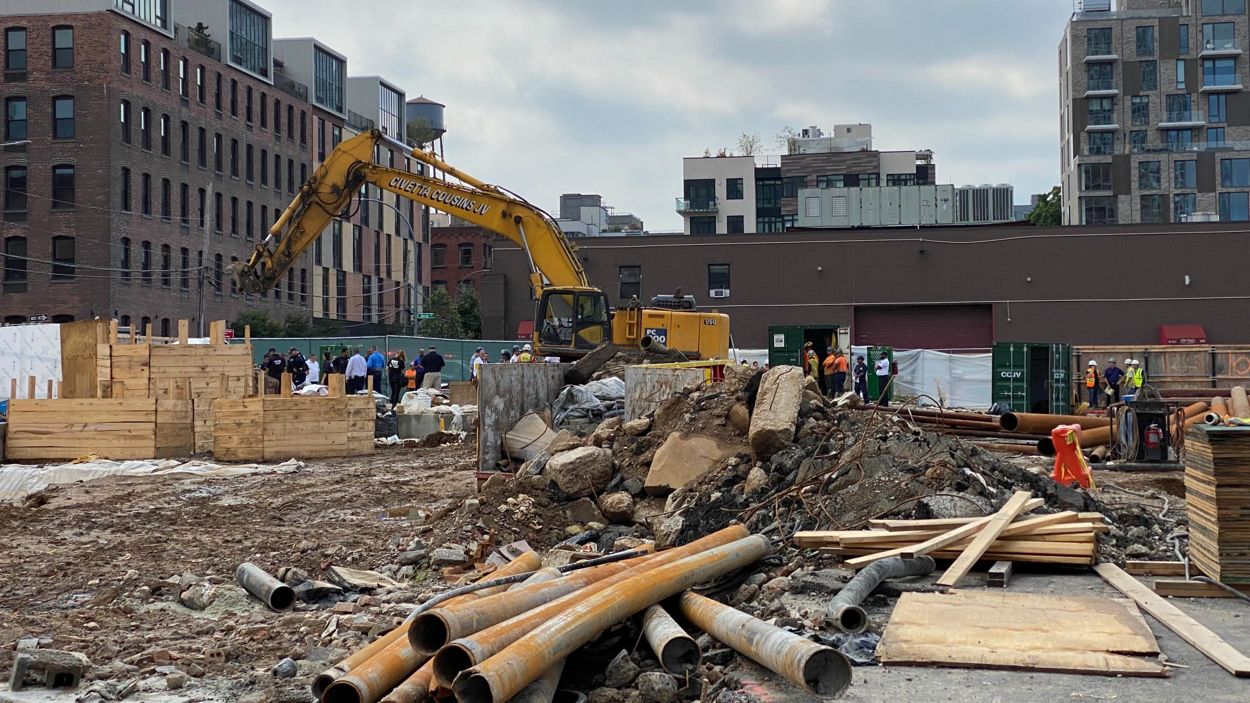 By and large, when Construction Accidents like this take place, attorneys skilled in recovery for the victim's family can help to uncover the truth behind the cause and get the victims monetary compensation. The attorneys can also recover the pain and suffering that the contractor's negligence may have caused.
The OSHA Investigation is likely ongoing
OSHA likely has not completed its investigation as of the writing of this piece. In our experience, most times there is a serious injury, it is likely that OSHA found a number of violations. Another key point is that in many cases like this, there are multiple violations of labor law.
A contractor may have violated Labor Law Section 200 and/or Labor Law Section 240. These are two laws that frequently lead to job site accidents as a result of a contractor's negligence. While we wait to see the outcome of the OSHA investigation, it is safe to say that lawyers are already investigating this accident.
The construction accident lawyers at the Snyder Law Firm help injured construction workers recover from accidents caused by another parties' negligence.
Large construction forklift killed a jogger in DeWitt
Rylee Kirk of Syracuse.com reported that a construction company, while using a forklift, killed a jogger in DeWitt on May 11, 2020. The roofing company was moving equipment near New Venture Gear Drive, when it hit the jogger. The law is clear that the contractors on a site have a duty to protect pedestrians who are near such equipment.
While the Snyder Law Firm is not handling this case, from our experience, this is a clear violation of New York Labor Law. If you or a loved one is ever injured in such an accident, we recommend that you contact an experienced construction accident lawyer.
WABC reported a scaffolding collapse in New York City on July 16, 2020. The collapse killed one worker and injured 3 more. It is difficult to ascertain whether or not there is another party to pursue aside the employer. Often times the contractor doing the construction work hires a scaffolding company to erect the scaffolding that is intended to protect the workers.
In this instance, the scaffolding failed resulting in the death of one construction worker and in serious injuries for three workers. Hiring an attorney who is experienced in handling labor Law section 240 cases will help to ensure that the victims of contractors who fail to follow New York law and or committed negligence will recover everything to that they are entitled.
The Snyder Law Firm Recovers seven figure settlement for a construction worker injured in a construction accident
Attorney David Snyder working with Attorney Carey Knapp settled a lawsuit for over seven figures in August 2022 for a construction worker injured in an accident where a fellow worker ran him over with a forklift.
The accident involved a worker whose fellow employee ran him over with a 30,000 lb forklift resulting in serious injuries. The attorneys were able to show that the general contractor failed to provide a safe workplace.
The Snyder Law Firm's personal injury lawyers fought to prove that other parties caused the accident. Consequently, the client was able to recover enough money to help get them back on their feet financially and ensure they are covered in the future.
Legal Disclaimer
This blog is not legal advice. This blog is for informational and entertainment purposes only. The blog is the opinion of David Snyder alone who has not personally investigated or interviewed any parties involved in any of the above accidents. Past results do not guarantee future outcomes. You can reach personal injury lawyer David Snyder using the contact button on this page.